As a new project, trading company KANEMATSU CORPORATION
established charging spots for electric vehicles in Japan and the
United States.
Zation issued smart cards for users, installed a user authentication management system and provided technical support.
KANEMATSU CORPORATION, Electronic Device Dept.
Call Center (Customer Center)
◇ Adoption of services since 2012, Duration of Operation: 9:30AM-5:00PM
(365 days), Preparation Time: 2 Months
Situation and Issues Faced
KANEMATSU CORPORATION began working on an electronic vehicle project in anticipation of the
next generation, planning in Kyoto and Osaka the development of an alternative to the gas
station; charging facilities for electric vehicles. Issuance of smart cards and the construction of a
system to manage authentication of equipment users was in motion. The challenge was figuring
out how to implement user support.
Summary of Situation and Issues
● Plans to develop charging equipment for electric vehicles were underway.
●The challenge was figuring out how to build a follow-up system for charging
equipment users.
Zation's Proposal
Zation began analyzing and thoroughly investigating the project's system and programs; getting
familiar with the specifics and mechanics of smart card issuances for recharging, in order to
construct a support business. Zation proposed a call center as a means of centrally managing
issues from customer inquiries to technical details - a maintenance system incorporating a support
system and smart card issuance, going beyond the functions of a typical call center.
Proposal Summary
● Zation suggested a consistent, total support system including operation
instructions and troubleshooting.
● A management system issuing smart cards and that provided customer support
was proposed.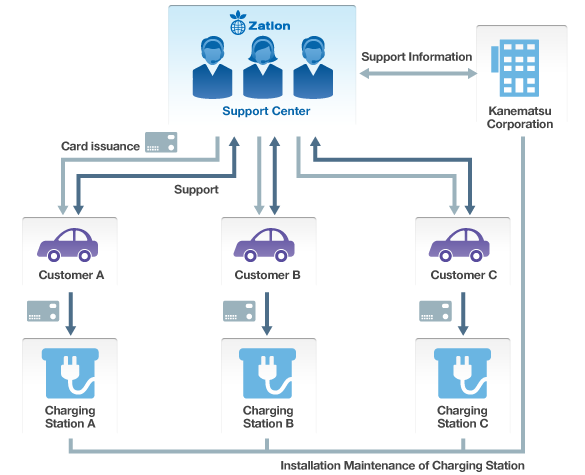 Outcome
After successful preparation and construction in Japan, KANEMATSU CORPORATION planned the
development of charging equipment for electric vehicles in the U.S. Zation provided support in the
introduction of the same equipment and support center in Portland, Oregon. Since then, Zation
has been participating as a partner with KANEMATSU COPORATION in the development of new
projects. Bonds between the companies had deepened and an ideal relationship had been built as
Zation provided one-stop source for supporting end users.
Summary of Outcome
● KANEMATSU CORPORATION utilized the support system developed in Japan for
the project in the U.S.
●The strengthening partnership between Zation and KANEMATSU CORPORATION
led to expansion in business development.