Support for Japanese small-to-medium sized firms, retail and chain
stores in foreign operations!
Providing back office support from settlements, sales management to payroll!
Japanese Restaurants
(Business Development from Japan to the U.S.)
Global Support (Back office Support)
◇Adoption of services since 2010, Preparation Time: 1 Month
Situation and Issues Faced
Companies that developed and expanded restaurant businesses in Japan were for the first time
looking to open locations in the U.S. In order to do so, back office operations, from the
implementation of credit card payment systems to accounting and sales management became an
important issue as there was lack of information know-how concerning foreign operations.

Summary of Situation and Issues
● Japanese companies looked to outsourcing back office operations in the
development of their businesses in the U.S.
● A functioning credit card payment system had to be established for business in
the U.S.
Zation's Proposal
With a proven track record and network for establishing BPO services in the U.S., Zation
collaborated on a settlement system with a credit card company. In order to manage inventory, a
POS system and card based payment system was also proposed as part of Zation's total business
support services.
Proposal Summary
● Zation collaborated with a U.S. credit card settlement company.
● Zation proposed a POS system for product and inventory management.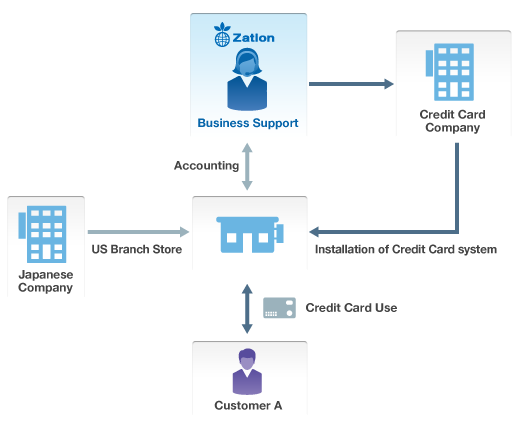 Outcome
By outsourcing back office functions, the companies were able to focus on customer service and
store operations, leading to customer satisfaction and a smooth start for establishing their
businesses overseas. In addition, the establishment of the POS system and strict product and
inventory management resulted in minimized losses. The POS system also provided a 24-hour
helpdesk service to provide backup support and a peace of mind in the case of emergencies.
Summary of Outcome
● By outsourcing back office functions, fixed costs were controlled.
● The increased focus on customer service led to improved customer satisfaction.