Promoting effective use of our network in Japan, China and the U.S!
Establish a support center in Japan in just 1 month with no initial
costs!
American Home Appliance Manufacturer
(Expanding business in Japan)
Call Center (Customer Support Center)
◇Adoption of services since 2011, Scope of work: Circuitry/1 line
Duration of Operation: Mon-Fri. 10:00AM-6:00PM (Holidays: Summer vacation, year-end and New Year's), Preparation Time: 1 Month

Situation and Issues Faced
A home appliance manufacturer based in New York looked to expanding their business in Japan.
The company planned to sell LED televisions and tablets to large supermarkets and mass retailers.
The manufacturer was in urgent need of establishing a support center to help deal with Japanese
customers.
Summary of Situation and Issues
● A foreign company was in urgent need of a support center when trying to start
their business in Japan.
● Zation helps to establish a support center hiring staff familiar with electronics.
Zation's Proposal
Zation first meets the manufacturer in their U.S office, and based on prior experience, suggests the establishment of a call center in Japan and operations for repairs and manufacturing in China.
Zation designed and arranged an outline for a support center without any initial costs, taking only 1 month for preparation. As a result the company was able to curb costs compared to building in-house.
Proposal Summary
●Zation's proposal was based on the trilateral network amongst the U.S., Japan and
China.
● There were no initial costs and only 1 month of preparation time went into
implementing a support center in Japan.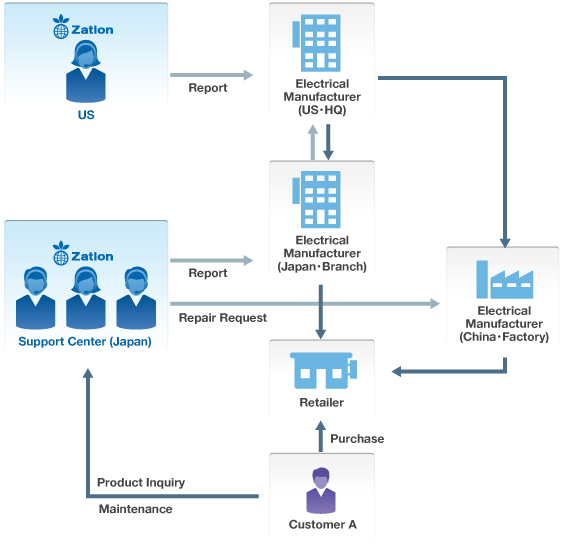 Outcome
Zation intentionally staffed the support center with staff with specialized expertise from the
beginning., conducting technical training for experts to improve the level of service provided to
Japanese customers. Furthermore, information collected within the centers was shared via smart
phones which allowed for consistent information that was viewable at any time. As a result, the
manufacturer saw increased customer satisfaction even in the first stages of conducting business in
Japan. Zation supports foreign companies trying to connect with Japanese clients.
Summary of Outcome
● Enhance the quality of service at centers through technical training…etc.
● The company succeeded in increasing customer satisfaction in the Japanese
market.