Support to Increase Sales through Proposal of New Business
Channels in New York!
American Company (Selling Cookware)
Global Support (Marketing Service)
◇ Adoption of services since 2010, Number of Consultations: 4 times per year
Situation and Issues Faced
An American company established in 1982, sold Japanese cutlery (knives) to Japanese restaurants
and chefs in New York. Based in an area with many restaurants, they had many regular customers
and a solid financial foundation. However, due to the economic turndown after the collapse of
Lehmann Brothers, restaurant numbers dwindled. The company was seeking new business
channels to secure sales.
Summary of Situation and Issues
● The company seeks development of new business channels to maintain revenue.
Zation's Proposal
Company management consulted Zation USA in New York. Zation made a detailed analysis of the
present conditions of this company and analyzed past client lists. Zation suggested customer
follow-up through product maintenance via e-mails and phone calls whilst taking this opportunity
to introduce new products. Through this new approach, many of the Chinese chefs on the client
lists adopted the habit of routinely sharpening their knives through the company's sharpening
services.
Proposal Summary
● Zation suggested new sales strategies based on customer data analysis.
● By enhancing services to existing customers, the company was able to maintain
revenue.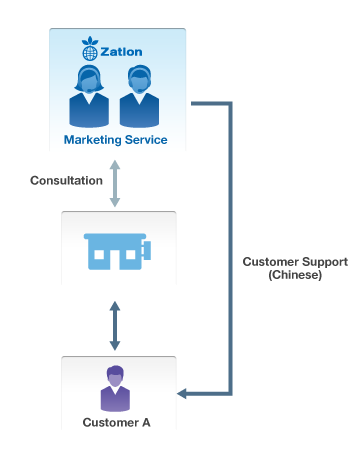 Outcome
The company's website was built in 3 languages: Japanese, Chinese and English to reflect
Japanese company management serving mainly Chinese clients in the U.S. market. Development
of their existing market of Chinese chefs served as a new sales and business channel. By providing
routine knife maintenance services, the company was able to regularly keep in touch with their
clients, increase customer satisfaction, introduce new products and services and succeeded in
attracting new customers.
Summary of Outcome
● The company built their website in 3 languages: Japanese, Chinese and English.
● Knife maintenance and sharpening services provided a chance to deal with
existing customers on a regular basis.